Testimony
Chris,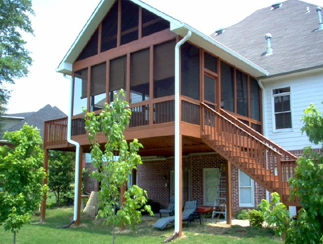 Frank and I absolutely love the work you have done at our home. It has been an incredible transformation of our backyard. We are out here most every evening, many of which we are not alone, as it has become quite the social place for our friends and neighbors. I cannot tell you how pleased we are with your work and will be recommending you to all!!
Many Thanks,
"E & F" G.
P.S. I am throwing a surprise party for Frank, and I would love for you to attend.
Chris,
Just wanted to let you know how much Lloyd and I appreciate the patio. Everything has turned out just wonderfully…just as you promised!! It is a marvelous addition to the screen porch. It gives us an extra entertainment area we needed and the fireplace has become such a "hot spot" now that the weather is getting cooler.
Thanks again,
Gene P.
We met with a number of contractors but truly lucked out with our decision to hire Plantation Porches to build our veranda, deck and to do the hardscapes in our backyard. Plantation Porches was not the low bidder but we felt, after reviewing their portfolio, their work was clearly craftsman like with particular attention to details. We wanted a highly skilled individual/perfectionist since we were specifying an exotic wood (IPE) for the decking, Haida Skirl Siding for the interior walls of the veranda and specific attention to details with the construction of the brackets and radiuses. We got everything we asked for and more. Any and all future projects will be done by Plantation Porches.